BoKMap
BoKMap™ is a context-as-a-service platform, a radical reimagining of document discovery and knowledge analytics. No need to type queries or even be familiar with domain language. Instead, simple point-and-click map actions enable rapid, serendipitous exploration of knowledge spaces for anyone, whether complete novice or domain expert.
Keep track of diverse knowledge assets and activities in a single space in order to:
- accelerate findability of documents
- discover gaps and overlaps among knowledge activities
- perform alignment and crosswalks between documents
- monitor trends based on sketched query geometry
Welcome to a visually engaging user experience that breaks down traditional knowledge stovepipes, such as between strategic management, marketing, HR, and technology specialists. All this is backed by our patent-pending machine learning workflow and API services. Adherence to industry standards ensures compatibility with off-the-shelf systems.

The platform can be deployed for any knowledge domain. For a first glimpse of base maps and novel ways to visualize text queries, check out these public deployments of BoKMap Explorer:

BoKMap Analyst, such as the Management Consulting & Accounting Analyst, where you can explore recent business and management literature. Or experience the power of maps when half a million computing-related documents are contextualized within the Data Science & Analytics domain.

Learn more about BoKMap in this interactive story highlighting the Data Science & Analytics Explorer and Analyst web apps:

In his own voice: see André Skupin explain how the provision of context becomes a foundational element of spatial intelligence: ISPRS Webinar.
---
BoKWiki & BoKOnto
This pair of technologies enables collaboration, exploration, and exploitation of domain knowledge using a knowledge graph approach. It can be used to capture and organize the latent knowledge held within a domain community or any organization, such as a corporate or government entity.
Our recently patented solution addresses two key problems:
(1) how to capture the knowledge held by domain actors, liberating it from siloed thinking and processes.
(2) how to operationalize such knowledge, making it usable by people and applications.

BoKWiki
BoKWiki™ is designed for collaborative capture and editing of domain concepts and their relationships, as well as organizing competencies/skills and canonical documents. User authentication and editorial workflow controls are included.
Example: GIS&T Body of Knowledge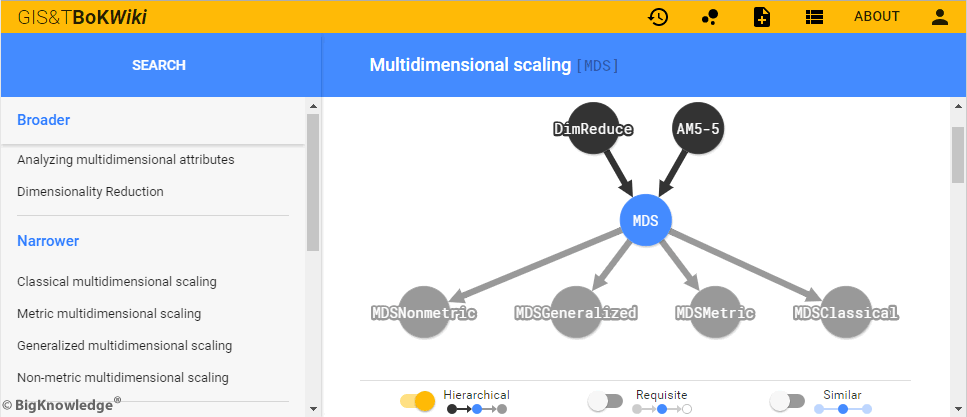 BoKOnto
BoKOnto™ stores concept networks, keeps track of the evolution of domain knowledge, performs inferences, and makes it all available to user applications through Web API services that can be ingested by applications. These services include analytical capabilities that range from simple text queries to complex natural language operations.
---
User Showcase
Working with the Open Geospatial Consortium (OGC), we developed the first-ever, comprehensive base map of the geospatial domain and deployed it in the Geospatial Technology Explorer. Since launching in 2020, the app has seen active users in 80 countries. Give it a try right here, or at https://www.ogc.org/OGCtechExplorer.