BoKMap
The BoKMap™ platform brings the analytical and communicative power of interactive mapping to users in any domain. Think of it as a detailed map of your world, plus "GPS" and analytics, all rolled into one, but for the abstract spaces of knowledge! This allows breaking down traditional knowledge stovepipes, such as between strategic management, marketing, HR, and technology specialists. You can now monitor diverse knowledge assets and activities in a single space. All this is backed by our proprietary workflow for transforming arbitrary text content into interactive visualizations. Once mashed up with your own and third-party data, this becomes an analytics-as-a-service solution supporting exploration and inference on knowledge spaces, with the look and ease of industry-standard mapping tools.
Example: Data Science and Analytics Explorer:
Learn more about what the BoKMap platform can do for you, in this story highlighting the Data Science & Analytics Explorer and Analyst web apps:
Tools like these can be developed for any domain. Check out our examples for Management Consulting & Accounting and Geospatial Technology.
---
Body of Knowledge System
The BigKnowledge® Body of Knowledge system (BK-BoK™) enables collaboration, exploration, and exploitation of domain knowledge. It is applicable to any domain, whether it is data science, biomedicine, social media, or the legal domain. It can be used to capture and organize the latent knowledge held within any organization, such as a private company or government entity. BK-BoK provides the foundations of a knowledge ecosystem for any domain or organization.

Our patent-pending solution addresses two key problems:
(1) how to capture the knowledge held by domain actors, liberating it from siloed thinking and processes.
(2) how to operationalize such knowledge, making it usable by people and applications.
BK-BoK does this through the modular subsystems BoKWiki™ and BoKOnto™.
BoKWiki
BoKWiki is designed for collaborative capture and editing of domain concepts and their relationships, as well as organizing competencies/skills and canonical documents. User authentication and editorial workflow controls are included.
Example: GIS&T Body of Knowledge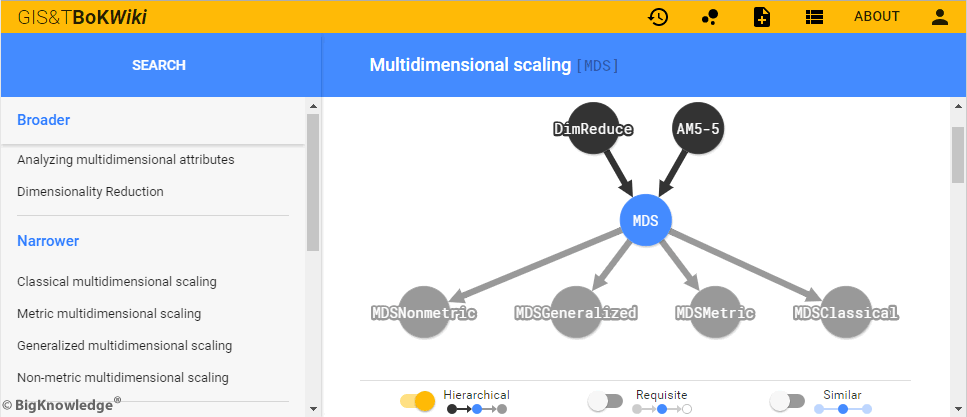 BoKOnto
BoKOnto stores concept networks, keeps track of the evolution of domain knowledge, performs inferences, and makes it all available to user applications through Web API services that can be ingested by applications. These services include analytical capabilities that range from simple text queries to complex natural language operations.
---
User Showcase
Thanks to the software-as-a-service (SaaS) model of BK-BoK deployment, we can work with clients across the globe. An example is GI-N2K, a consortium of 31 organizations, funded by the European Union's Erasmus Lifelong Learning Program. It is using BoKWiki to develop a European version of the Geographic Information Science & Technology Body of Knowledge (GIS&T BoK). Last summer, GI-N2K hosted eight plugfest workshops in seven countries, leveraging the BK-BoK system for stakeholders in the academic, private and public sectors. We have been hosting the system and developed custom BoKOnto Web API services. This knowledge middleware is ingested by our European customers into their own applications, which are focused on improved alignment of workforce demands with curricular supplies. Here's a curriculum design tool ingesting our BoKOnto services, developed by GI-N2K: